HOLIDAY FOOD DRIVE!
November 22, 2019

-

December 22, 2019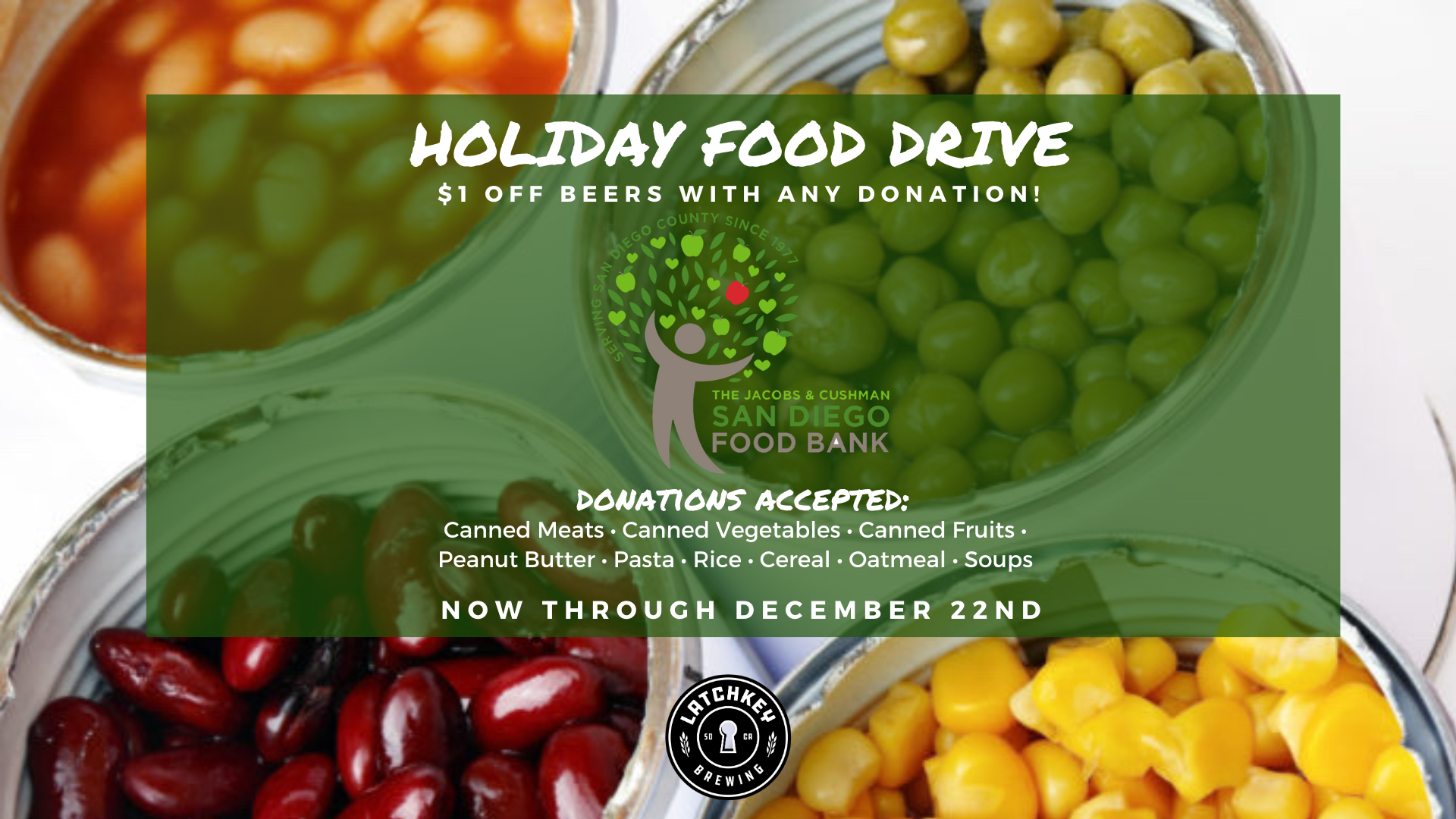 We are doing a very special campaign for the Jacobs & Cushman San Diego Food Bank, which provides food to 350,000 people across San Diego County every single month. Their latest audit shows that 93% of every dollar goes directly to programs, which means they are able to provide 5 meals with every dollar donated!
We've set up a Virtual Food Drive, so you can contribute to this important cause right here, right now – it's quick and easy to make an immediate difference in the lives of our hungry neighbors: https://www.fooddriveonline.org/sandiegofoodbank/index.php?s=LatchkeyBrewing
Just put your cursor on the item you want to purchase, drag it across the scanner and it'll drop into the reusable grocery bag. You'll see your purchases on the receipt. When you're satisfied with your selections, just hit checkout! All donations are fully tax deductible, and you'll receive a personal receipt from the Food Bank.
Nearly ½ million people in San Diego County are food insecure – that means they don't always know where their next meal will come from. That's a scary place to be, and 1 in 7 San Diegans (1 in 5 kids) struggles with it. Surprisingly, less than 5% of those people are homeless. The majority of the people the Food Bank serves are working families with children, seniors living on a very tight budget, even military families (39,000 active military, vets and their families every month). This is right here in our community. With the help of more than 400 non-profit partners (food pantries, soup kitchens, shelters, etc.), the Food Bank distributed 28 million pounds of nutritious food last year – more than 9.5 million of that was fresh fruits and vegetables!
Please contribute to our Virtual Food Drive – your support will provide the most basic of needs to our hungry neighbors, and your donation is tax deductible. You can forward this to your friends and family, too – everyone can make a big difference with this campaign!
Now through December 22nd, we are collecting dry goods and non-perishables to benefit the Jacobs Cushman San Diego Food Bank. We are offering $1 off any beer with any donation. Please also check out our VIRTUAL food drive so that you can contribute from the comfort of your own home. Help us make the holiday season fun for all!
Most Needed Food Items:
• canned meats & tuna
• peanut butter
• canned soups
• canned fruits, vegetables & beans
• spaghetti
• cereal
• rice
• mac & cheese
VIRTUAL FOOD DRIVE!:
https://www.fooddriveonline.org/sandiegofoodbank/index.php?s=LatchkeyBrewing