NEW WINERIES & BREWERIES IN SAN DIEGO
By IRENE LECHOWITZKY MARCH 10, 2019 6 AM
San Diego County's dynamic craft brewing industry has a mix of new enterprises to entice travelers searching for suds. A bonus is a renewed emphasis on food. If wine is more your style, local vintners have new offerings as well.
Here are some fresh places to enjoy a brew or glass of vino.
Gravity Heights
Thousands of nearby high-tech workers cheered the January opening of Gravity Heights. This is a striking, large space with a patio bar in back.
Beer and food are on equal footing: The sophisticated menu offers items as diverse as tuna crudo and Moroccan vegetable tagine as well as 13 house beers.
Suds scoop: Brewer's Best amber was my favorite.
Info: 9920 Pacific Heights Blvd., San Diego (Sorrento Mesa); (858) 283-8206
Modern Times
Like Gravity Heights, Modern Times was jammed from the get-go. Its tasting room, which opened in October in Encinitas, is a nice addition to the beach town's hipster scene. There are clever design touches throughout, and the wall of stadium-style "bleacher" seating is a hoot. Vegetarians: The food is all plant-based; the faux bratwurst was a hit.
Suds scoop: The nitro version of the Black House oatmeal coffee stout was tops.
Info: 470 S. Coast Highway 101, Encinitas; (760) 452-4304
Amplified Ale Works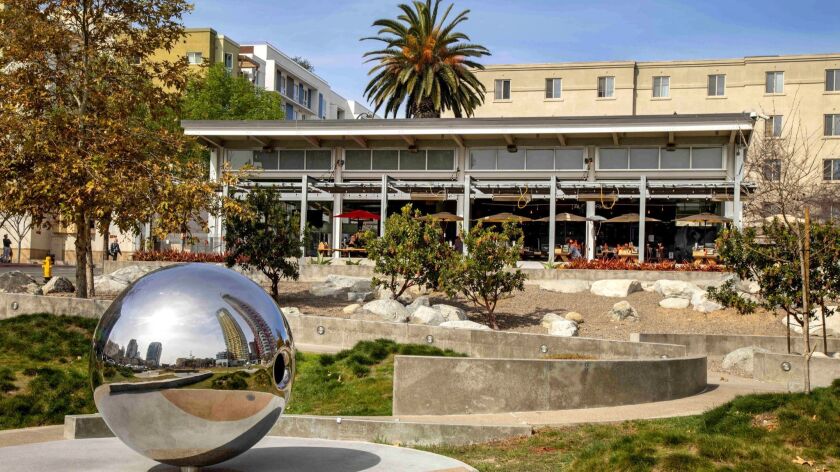 Amplified Ale Works, which opened in August in the East Village near Petco Park, isn't brewing on-site yet. For now, this casual, hip pub features an extensive lineup from its San Diego brewery and serves coffee, cocktails and Mediterranean food.
The large, dog-friendly patio has picnic tables on AstroTurf overlooking a pocket park and is an oasis even as condo towers go up next door.
Suds scoop: The Pig Nose Pale Ale was enjoyable.
Info: 1429 Island Ave., San Diego; (619) 458-9443
Attitude Brewing
The modern tasting room Attitude Brewing opened in September (although it had its grand opening in February) in Barrio Logan, just a few blocks from the fantastic murals in Chicano Park. It features large tables and eye-catching works by Jalisco artist Paco Racru.
I can't quite explain it, but the wooden bar stools evoked memories of Jacob's ladder "click-clack" toys. Interesting wraps (ahi tuna, chicken curry salad) dominate the menu.
Suds scoop: The Famous, a Mexican lager, was bright and refreshing.
Info: 1985 National Ave., San Diego; (619) 795-4257
Latchkey Brewing Co.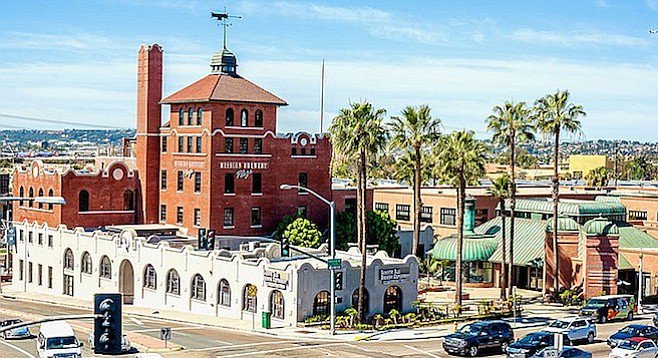 Latchkey Brewing Co., now just shy of its first birthday, follows in the footsteps of other local brewers who have graduated from the same space in the historic 1930s Mission Brewery Plaza.
It's a small, dark space with a patio, but the vibe is cheery, the bartenders friendly and the beer solid. Latchkey is a short hop from Old Town and the airport, but one-way streets and parking can be tricky.
Suds scoop: The SD 1915 rice lager was light and smooth.
Info: 2120 W. Washington St., San Diego; (858) 284-7076
Northern Pine Brewing
Three blocks east of rapidly gentrifying downtown Oceanside, Northern Pine Brewing, which opened in October, has a wide-open parking lot, rare for the area. The well-lighted tasting room has a long bar and tables that can handle big parties.
The menu includes good barbecue and such sides as collard greens and cornbread from That Boy Good, a local fave.
Suds scoop: Survival of the Littest, a strong barley wine beer, was excellent.
Info: 326 N. Horne St., Oceanside; (760) 754 1434
The wine scene
Starting a vineyard is very different from opening a brewery; if nothing else, you have to wait years for the vines to reach maturity. Nonetheless, San Diego County's first-rate winery scene, which is strong on reds, continues to flourish.
Cheval Winery
In the hills of Escondido, Cheval Winery, which opened nearly a year ago, is the result of a happy accident: The owners, looking for a property for their show horses, bought an estate that came with 10-year-old vines begging to be harvested.
The tasting room features a huge patio with room for two-steppin' and country wine (line) dancing.
Tasting flight: Four samples for $15; the Bullet blend, a hearty red, was tops.
Info: 2919 Hill Valley Drive, Escondido; (760) 690-6617
Orfila Vineyards & Winery
One of two new tasting rooms, Escondido's 25-year-old Orfila Vineyards & Wineryplanted a flag in Oceanside in January in a bright, modern downtown space a block from the beach.
You'll find charcuterie and cheese boards, tortilla flatbreads and such light fare as polenta cakes to go with the wine offerings, half of which are from estate-grown grapes and half from elsewhere.
Tasting flight: Six samples for $15; the estate-grown red blend Full Fathom Five hit the spot.
Info: 221 N. Cleveland St.; (760) 755-7040
La Fleur's Winery tasting room
The San Marcos tasting room of La Fleur's Winery, which opened in May, is a family affair.
Owners Dana and Dave La Fleur and their daughter, Kayla Thomas, are gracious hosts who light up the small space. There's room in the warehouse for such events as country line dancing; it was amusing to watch folks take lessons while trying not to spill their wine.
La Fleur's is featuring more estate-grown wine from its Escondido vineyard (the rest uses grapes from Temecula, etc.).
Tasting flight: Five samples for $12; the Right Bank blend had the right stuff.
Info: 215 S. Pacific St.; (760) 983-2838
More in the offing
Mermaid Valley Vineyard in Ramona and Starvation Mountain Vineyards in Escondido are almost ready to open, and Jack Simon Vineyards plans to open a tasting room in Carlsbad late this year.